Baghdad bombings: Did Al Qaeda rent rooms to blow them up?
Iraq officials say that the Baghdad bombings Tuesday came after Al Qaeda agents rented vacant apartments and office space and planted bombs there.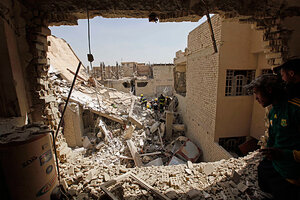 Hadi Mizban/AP
Iraq authorities on Tuesday blamed strangers who'd rented empty apartments or office space in several Baghdad residential buildings in recent weeks for at least seven explosions that ripped through the complexes one after another as residents were leaving for work.
Neighbors reported that they never saw moving trucks or any other sign of the new tenants, and authorities in Iraq said they thought that the renters had packed the vacant spaces with explosives, which they detonated during the morning rush hour in a coordinated militant operation that was chilling in its sophistication and planning.
At least 35 people were killed and another 140 were wounded. The toll could have been higher: Iraqi forces disabled two additional bombs after they swept through other apartment buildings in the Chkook, Shoala and Amil neighborhoods, according to the Baghdad Operations Center, the capital's central security authority.
"After the first explosions, the center received information of apartments that were rented and then deserted," the Baghdad Operations Center's Web site said.
American and Iraqi officials blamed Al Qaeda in Iraq for the attacks, which they said bore the hallmarks of the mostly homegrown Sunni Muslim extremist group: mass casualties, civilian targets and multiple coordinated explosions.
---