Press freedom vs. state security: Israel's Anat Kam faces jail for leaking army files
Israel today lifted a gag order on Israeli media reporting on the case of Anat Kam, who allegedly passed up to 2,000 classified army documents to the newspaper Haaretz. The case has raised fresh questions about whether press freedom is being sacrificed for state security.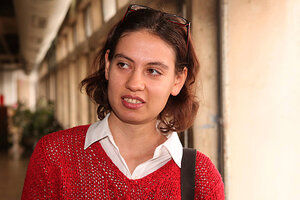 AFP PHOTO/CHEN GALILI
The details of a controversial media case involving the transfer of secret Israeli army documents to a top Israeli newspaper were finally released on Thursday, pushing into the limelight the ways in which state security concerns here vie with – and sometimes trump – democratic values, especially press freedom.
Amid increased pressure to lift a gag order that was issued by a local Tel Aviv area magistrate court, the court cleared for publication on Thursday accusations that Anat Kam, a 23-year-old internet reporter, had stolen documents while she was serving in the Israeli army's Central Command office. She then provided the material to a senior reporter at Haaretz, Israel's center-left paper of record, who ran several stories based on the documents, an indictment filed against Ms. Kam in January says.
The resulting articles included an explosive story by the Haaretz journalist, Uri Blau, who showed that the army used targeted assassinations against wanted Palestinians even when they knew that arrest was possible, in apparent violation of Israeli Supreme Court rulings.
---