Cairo's revered Al Azhar University now overshadowed by TV imams
Al Azhar's edicts were once heeded from Morocco to Indonesia, but the Cairo institution has lost clout as TV imams are reaching larger audiences and Egypt's President Mubarak has taken greater control. That's a problem for the regime as it braces for its biggest political transition in nearly 30 years.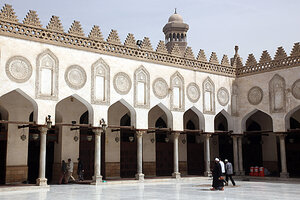 Victoria Hazou/AFP/Newscom
One of the most historically important centers of Sunni Islamic thought turned a new page in March, when Egypt appointed a Sorbonne-educated cleric to take the helm of Cairo's ancient Al Azhar University.
But Ahmed el-Tayeb, who holds a PhD in Islamic philosophy, faces an old battle: how to preserve Al Azhar's independence and influence.
Al Azhar today is suffering from a perceived lack of credibility in the face of pressure from the Egyptian government and a loss of popularity amid the rising influence of TV preachers and Internet imams. That has created a crisis of legitimacy for an institution whose influence once stretched from Morocco to Indonesia.
"In the Muslim world, outside this country, they used to consider Al Azhar the most important Sunni Islamic authority in the world," says Cairo resident Mohammad Saaid, a devout Muslim who works in television. "As long as they follow the policies of the [ruling National Democratic Party] ... they will never be following the policies of the Islamic religion."
While seen as a loss for the broader world of Sunni Islam, Azhar's waning influence presents a more pressing problem at home. In recent years, the Egyptian regime has relied heavily on Azhar to sanction its policies and support President Hosni Mubarak's rule. Now, with the 81-year-old leader in his waning days of power, the regime is bracing for a political transition in which Azhar's support will be crucial.
---