Al Qaeda 9/11-style plot to fly airliners into shrines in Iraq
Iraq Foreign Minister Hoshyar Zebari told the Monitor that a 9/11-style plot to hijack commercial airliners and fly them into Shiite shrines in Najaf and Karbala has been uncovered. US officials say the plot appeared to be in the early planning stages.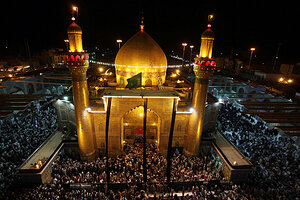 Alaa Al-Marjani/AP/File
Baghdad's airport is under heightened security and Iraqi pilots are being investigated after an alleged Al Qaeda plot to hijack a plane and fly it into one of Iraq's shrines in a 9/11-style attack, Iraq's foreign minister said Thursday.
"They were either going to hijack some planes abroad - we had tips from Czech (authorities) and from Interpol that suspicious Iraqis were trying to intercept a plane... and (strike) some very emotive sacred targets," Foreign Minister Hoshyar Zebari told The Christian Science Monitor. He said the potential targets included shrines in Najaf and Karbala - two of Shiite Islam's holiest sites which receive thousands of foreign pilgrims a week. He said the alleged attackers were planning to execute the plan in about 45 to 60 days.
A senior US military official speaking on condition of anonymity said their intelligence indicated that the planes were intended to be hijacked in Baghdad. He said two Iraqi Airways pilots had been detained for questioning in connection with the alleged plot.
---