Want to read Arab news in English? Here's how.
The translation website Meedan links English and Arabic speakers, creating a public forum for them to translate, read, and debate Arab news.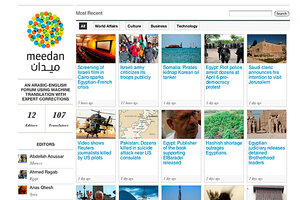 Screen grab from www.meedan.net
Despite a post-9/11 surge of Westerners learning Arabic, the world's fifth-most-spoken language, English and Arabic speakers are still largely segregated on the Web.
A new translation website called Meedan aims to close that gap. Meedan ("public square" in Arabic) is creating a public forum for English and Arabic speakers to translate, read, and debate Middle East news.
"There was a real dearth of opportunities [after 9/11] for Arabic speakers in the Middle East and English speakers in the US and elsewhere to interact and share their viewpoints on world events and to see where those viewpoints diverged," says George Weyman, community manager for Meedan. "It's crucial that we open up channels of communication between the West and the Middle East."
Relying on a combination of machine and human translation, the site offers Middle East news on pages split between English and Arabic. When users comment on a story, responses are automatically translated into either English or Arabic.
The site also recently partnered with the Global Citizens Corps, an international organization that connects young people around the world, to create a forum for Lebanese and American university students to discuss government transparency issues in the Middle East.
Previously, Global Citizens Corps ran its own site for this discussion, but it did not allow users to post in Arabic, only in English.
Meedan changed all that.
"For someone who doesn't speak Arabic and wants to know what is going on here [in the Middle East], this is the perfect tool," says Toleen Touq, a freelance editor for Meedan in Amman.
---