Two Iraq Al Qaeda leaders killed: Did they really get Abu Omar al-Baghdadi?
US and Iraqi officials say DNA evidence proves they killed Abu Ayyub al-Masri, the key link between Al Qaeda internationally and its offshoot in Iraq, and Abu Omar al-Baghdadi, the senior Iraqi member of the group. But one analyst is skeptical.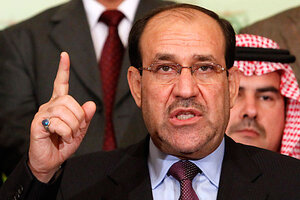 Hadi Mizban/AP
The death of a top Al Qaeda in Iraq (AQI) leader could sever a link between Al Qaeda headquarters and its Iraqi offshoot but the identity of a second figure previously announced to have been killed appears far from clear.
Iraqi Prime Minister Nouri al-Maliki on Monday announced that Iraqi and US forces had killed Abu Omar al-Baghdadi and Abu Ayyub al-Masri, an Egyptian believed to have ties to Al Qaeda leadership, in a rocket attack on their safe house in northern Iraq on Sunday. At the time of the killing of Al Qaeda in Iraq leader Abu Musab al-Zarqawi in 2006, US officials said he had been replaced by Mr. Masri, who they said had fought and trained with the group in Afghanistan prior to the US invasion of Iraq.
---