Palestinian official denies report that President Mahmoud Abbas is ailing
Palestinian peace negotiator Saeb Erekat denied reports that Palestinian President Mahmoud Abbas is ailing. But speculation over Abbas' health is a reminder that a change in leadership could throw peace efforts into turmoil.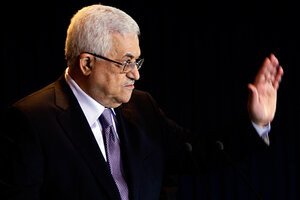 Amr Abdallah Dalsh/REUTERS
President Mahmoud Abbas has undergone weeks of medical treatment after a fall in the bathroom left him with a "major bruise" on his back, says Palestinian peace negotiator and PLO member Saeb Erekat. He denied a report in Arabic daily Al Quds Al Arabi and also in Israeli media that Mr. Abbas is in declining health.
Mr. Erekat says that Abbas, 75, is in the final week of treatment at Jordan Hospital in Amman after slipping in the bathtub last month. Abbas has been residing at his private residence in the Jordanian capital, according to Erekat, who characterized the suggestion the president was suffering from an illness as "absolute nonsense." Abbas has continued to carry out official duties, wrapping up a three-day visit to Egypt this week.
Nevertheless, the speculation is a reminder that the Palestinian leader's death would leave behind a welter of potential successors with paltry experience on the international stage and limited domestic popular support, as well as an unclear electoral process to coronate a new leader.
Such a scenario could leave the Palestinians without a credible figure to serve as an interlocutor for a treaty with Israel, dealing a blow to the peace process.
---