Iran war games begin with new 'ultra fast' speed boats
Iran's war games in the Persian Gulf began earlier than usual this year with a display of new attack speed boats and rhetoric.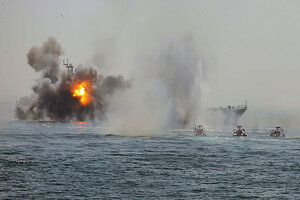 Mehdi Marizad/Fars News Agency/AP
At the start of three days of war games in the Persian Gulf, Iran is trumpeting the launch of a new weapon: an "ultra-fast" watercraft.
Iranian television Wednesday showed dozens of speedboats with flags flying as they raced across shimmering waters toward mock target ships, firing rockets and heavy machine guns with a fusillade that caused explosions and columns of billowing black smoke. (see video at end of article)
State-run PressTV reported that "Iran is showing off its military might" and that the "world got its first glimpse" of the boat. The annual war games were launched months earlier than usual by Revolutionary Guard, as international pressure builds on Iran over its nuclear program.
Iran is also ratcheting up its rhetoric in response to a recent US Nuclear Posture Review, which excludes Iran and North Korea from new limits on American use of nuclear weapons.
Iran's supreme religious leader Ayatollah Ali Khamenei said Wednesday that other nations "should not let Obama get away with nuclear threats," Fars News Agency reported, according to Reuters. "We will not allow America to renew its hellish dominance over Iran by using such threats."
Great Prophet: the fifth sequel
Called "Great Prophet V," the exercise included more than 300 speedboats in combination with ground forces and air units. Iranian news footage showed commandos landing on one of the target ships amid the smoke.
"The most important message from the exercises in the face of American nuclear threats is that we will strongly resist them," said Ali Shirazi, the representative of Ayatollah Khamenei to Revolutionary Guard naval forces, according to Iran's official news agency IRNA.
Military spokesman Ali Reza Tangsiri said the new "Ya Mahdi" attack boat – named after the Shiite Muslim messiah who is expected to one day return and bring universal justice – was "less detectable by radar" because of its "high speed."
"The Strait of Hormuz belongs to the region and foreigners must not intervene in it. We want to keep it safe and secure," Mr. Tangsiri said according to the ISNA news agency, as translated by Agence France-Presse.
The correspondent for state-run broadcaster IRINN wore a desert camouflage uniform to deliver his morning report from the site of the exercise. In one scene, a microphone was held out to capture the sound of exploding bombs, as the boat apparently full of Iranian journalists sped alongside the advancing armada.
Iran has for years described an asymmetric military strategy to deal with enemy warship with superior firepower but less agility than the smaller Iranian craft. US commanders have similarly warned of the dangers of effective "swarming" by Iranian military forces in the Persian Gulf.
(Video of a 2008 incident between US Navy and Iranian speedboats)
Iran has in the past declared that it could shut the narrow Strait of Hormuz at the eastern bottleneck of the Persian Gulf, through which 40 percent of the global oil supply flows.
Pentagon underwhelmed
The Pentagon played down the significance of the war games, noting that Iran frequently conducts military exercises accompanied by verbal fireworks.
"What's always been interesting is how much what they do comports with what they says," Pentagon spokesman Geoff Morrell said on Wednesday. "It's more often the case with testing of weaponry than it is with exercises and drills, but often they profess and claim to have capabilities which are not demonstrated in reality based upon our review of intelligence after the fact."
While Iranian officials may appear to be giving this year's war games extra stridency, aggressive rhetoric (and actual incidents) is nothing new to the Persian Gulf.
"The first shot against Iran would set the United States' vital interests in the world on fire," the cleric Shirazi warned in 2008, during the war game "Great Prophet III." "Tel Aviv and the US fleet in the Persian Gulf would be the targets that would be set on fire in Iran's crushing response."
More than a decade earlier – long before Iran was surrounded by tens of thousands of the US troops in Iraq and Afghanistan, along with the US Fifth Fleet based in Bahrain – the commander of the Revolutionary Guard had a similar warning.
"Let me send a clear message to the Americans: the Persian Gulf is our region; they have to leave our region," Maj. Gen. Mohsen Rezaei declared in 1997, echoing official statements today. "Iran will never start any war, but if Americans one day decide to attack us, then they would have committed suicide. We will turn the region into a slaughterhouse for them. There is no greater place than the Persian Gulf to destroy America's might."
In 1988, a state-of-the-art US Navy Aegis cruiser – immediately after chasing small Iranian Revolutionary Guard launches – mistakenly shot down a civilian Iran Air plane, killing all 290 on board. The US later paid compensation to the victims' families, but the US ship's air-warfare chief was also awarded the Navy's Commendation Medal for "heroic achievement."
RELATED STORIES:
Iran foreign minister says interested in modified nuclear fuel swap
'Haystack' gives Iranian opposition hope for evading Internet censorship
Q&A: Will Iran nuclear sanctions work?
All Iran news coverage
---
Follow Stories Like This
Get the Monitor stories you care about delivered to your inbox.