Is Israel willing to freeze East Jerusalem construction?
As US Middle East peace envoy George Mitchell arrived in Israel on Thursday, Prime Minister Benjamin Netanyahu insisted there will be no halt to settlement building in East Jerusalem, even as a far right political ally hinted at some flexibility over a freeze.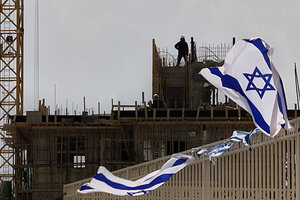 Sebastian Scheiner/AP
US Middle East Peace Envoy George Mitchell arrived here late Thursday for talks with the Israeli and Palestinian leaders in an attempt to get the two to agree to terms for so-called proximity talks.
Mr. Mitchell's trip comes despite recent indications from President Barack Obama that his administration is losing patience with the two parties in the conflict.
Among the issues that stand between trying to bring the two sides together is Israeli building in East Jerusalem, which Israel sees as part and parcel of its united capital and Palestinians see as the capital of their future state. Obama asked Netanyahu a month ago to agree to a freeze in all building projects in East Jerusalem, but Netanyahu has not given a formal answer to that demand until now.
---