Israel quietly freezes new building in East Jerusalem
Jerusalem City councilman Meir Margalit says the prime minister's office has put a de facto freeze on new building in East Jerusalem and meetings to approve such projects have ceased. He sees that as a sign Israel is ready to restart Palestinian peace talks.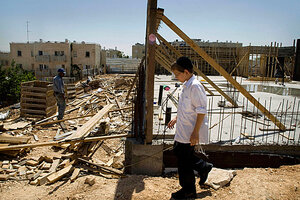 Sebastian Scheiner/AP
If the Middle East peace process were a stock, it would be one of the riskiest investments on the market. But there are bullish indicators for renewed peace talks between the Israelis and Palestinians.
Both sides seem to be moving toward compromises which, although seemingly minor, might pave the way to the first serious peace talks since the failed Annapolis process that began in late 2007.
Palestinian Authority President Mahmoud Abbas said in an interview aired late Monday on Israeli television that he was ready to begin "proximity talks" – US-mediated negotiations for restarting peace talks – with Israeli Prime Minister Benjamin Netanyahu. Mr. Abbas also said that he would bring the plans for such talks – the specifics of which were presented over the weekend by US Middle East peace envoy George Mitchell – to the Arab League when it meets this weekend.
IN PICTURES: Israel settlements
Apparent de facto freeze on new building in E. Jerusalem
---