If Israeli-Palestinian peace talks resume, Israel plans to highlight incitement
Israel is planning on highlighting allegations of antisemitism and incitement to violence by Palestinian leaders if and when Israeli-Palestinian peace talks resume.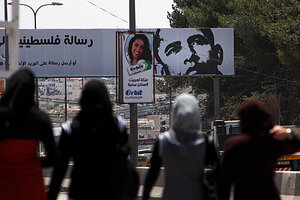 Tara Todras-Whitehill/AP
With some expecting US-sponsored Israeli-Palestinian peace talks to resume this month, Israel is complaining of Palestinian government-sponsored "incitement'' against the Jewish state.
Israel is planning to highlight claims of demonization of Israel and glorification of terrorism by Palestinian leaders after months of being on the defensive over settlement expansion in the West Bank and Jerusalem, analysts said. Government spokesman Mark Regev said that progress on incitement would be a "crucial'' issue in peace negotiations.
"This is a very high priority for us,'' he said. "It's a Palestinian obligation in the framework of the peace process. It's a litmus test as to the seriousness of the Palestinian side as to their readiness to peace and reconciliation.''
Palestinian negotiator Saeb Erekat declined to comment on the Israeli allegations of incitement. He said that the executive committee of the Palestine Liberation Organization (PLO) is slated to meet over the weekend to give the final go ahead for the talks.
Nabil Amr, a former Palestinian Information Minister who negotiated with Israel on incitement issues six years ago, said that the charges are a pretext to derail the talks. "We can always find examples among Israelis and the Palestinians, but (if) we want progress we have to go directly to a peace solution,'' he said.
---