After Iraq election, Shiite parties announce alliance to form next government
In the wake of the disputed Iraq election, the two largest Shiite parties announced they are creating an alliance to lead the next government that leaves them just 4 votes shy of a parliamentary majority.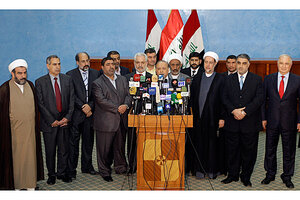 Mohammed Ameen/Reuters
Iraq's two main Shiite parties brought the country a step toward a new religious-based government by forming an alliance just four seats short of a parliamentary majority. The agreement between the two parties raised fears that Sunnis could once again be cut out of power, sparking a return to sectarian violence.
Underscoring the religious underpinnings of the new alliance, a senior member says the political bloc will be obliged to follow the guidance of Grand Ayatollah Ali al-Sistani, a reclusive Najaf-based cleric who is the country's most revered and influential religious figure.
"The guidance of the Supreme Marjai'ee (senior Shiite religious scholars) is to be considered an obligation for the alliance," says Ali al-Adeeb, a leader of Prime Minister Nouri al-Maliki's Dawa Party.
The alliance – announced without a name or a leader – foreshadows a showdown over who would be prime minister. Mr. Adeeb says a 14-member committee will vote on who should be the next prime minister. The alliance is composed of Maliki's State of Law coalition and the Iraqi National Alliance, an electoral coalition that included the Islamic Supreme Council in Iraq and followers of fiery Shiite cleric Muqtada al-Sadr and there is no clear consensus between these groups yet on who should lead the country.
---