After Iraq attacks, security forces describe hardships at Baghdad checkpoints
Federal police and Iraqi soldiers interviewed after yesterday's Iraq attacks described being shot at, deserted by colleagues who pay commanders to get out of work, and forced to ask neighbors for drinking water and toilet access.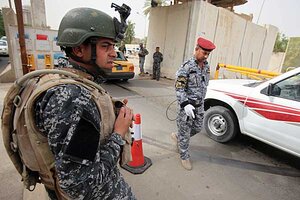 Karim Kadim/AP
The day after militants in Iraq launched coordinated pre-dawn attacks on Baghdad checkpoints, federal police and Iraqi soldiers who work at some of those checkpoints described their fear of attack and a lack of basic support they believe is weakening security.
"I haven't slept for three days," said an Iraqi soldier at a checkpoint in the Ghadeer neighborhood of east Baghdad who got off duty just 10 minutes before his post was attacked on Monday.
The soldier, who asked to be called Haider rather than his real name for fear of punishment, walked with a limp. He said he was shot in the leg on Saturday by a gunman who fired at him from a passing car as he was leaving the checkpoint.
How Haidar's colleagues described the attack
Haidar said he left his post just minutes before it was attacked at about 4:15 Monday morning. His colleagues told him that two men dressed in the orange jumpsuits used by municipality workers got out of a white Camry and walked toward the checkpoint.
RELATED: Iraqi security forces say politicians were behind Iraq attacks
---