Iraqi security forces say politicians were behind Iraq attacks
In one example, a policeman near one of the six Baghdad checkpoints attacked in a wave of Iraq attacks yesterday said political parties were taking advantage of the tenuous security situation.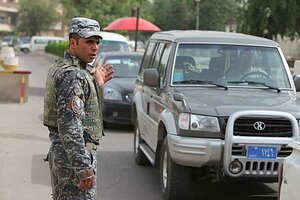 Karim Kadim/AP
Iraqi security forces and citizens were on edge Tuesday after a string of attacks that has raised fears of instability and sparked accusations that the government has become too consumed with forming a coalition to be able to protect its citizens.
Iraqi officials immediately blamed Al Qaeda in Iraq for the violence Tuesday, which killed more than 100 people in the deadliest day in Iraq this year.
The US State Department said the attacks would not "undermine the confidence the Iraqi people have demonstrated in their government and their security forces." But the attacks appear to have not only undermined Iraqi confidence in their security forces but the security forces' confidence in their government.
Many Iraqis, including police and soldiers, say they believe their own politicians are behind the attacks.
"I can't speak badly about security because I don't want to spoil the image of the security services, but to tell you the truth, it is not good," says a policeman near the site of one of the checkpoint attacks. "This is a struggle for power – none of the citizens are blindfolded – we can all see and understand the situation. I blame the government for this."
RELATED: After Iraq attacks, security forces describe hardships at Baghdad checkpoints
Iraq mired in vote recount two months after election
---
Follow Stories Like This
Get the Monitor stories you care about delivered to your inbox.