In 'humanitarian' move, Iran allows mothers of jailed US hikers to visit
Cindy Hickey, Nora Shourd, and Laura Fattal have confirmed that they received visas from Iran. They plan to travel to Tehran's infamous Evin prison early next week to see the jailed US hikers for the first time in 10 months.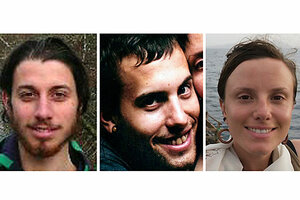 freethehikers.org/AP/File
Iran has issued visas to the mothers of three jailed US hikers facing espionage charges for illegally crossing into Iran from northern Iraq last July.
Their families say the three were innocent travelers on a hike who accidentally crossed the border. Iranian officials have suggested the trio – picked up as serious post-election unrest shook the Islamic Republic – were spying and will face trial.
Iranian officials say the visas were approved as a "humanitarian act," and the decision comes as President Mahmoud Ahmadinejad and senior government officials are engaged in a diplomatic charm offensive of UN Security Council members to avert a fourth round of UN sanctions over their nuclear program.
"We're really over-the-top excited about this," said Nora Shourd, the mother of Sarah Shourd, who was arrested and been held at Evin prison in Tehran along with Josh Fattal and Shane Bauer. "I can barely breathe this morning," Mrs. Shourd told the Associated Press. "We've waited for this for so long. And it's going to be wonderful to see these kids, absolutely wonderful."
Swiss diplomats: Shourd, Bauer unwell
---