Yemen: Never mind Anwar al-Awlaki, the economy is a bigger threat
A 75 percent drop in Yemen government revenue and other woes is making it harder to pacify a restless public with subsidies and ensure cooperation in remote tribal areas – including ones where cleric Anwar al-Awlaki and other militant types are believed to be living.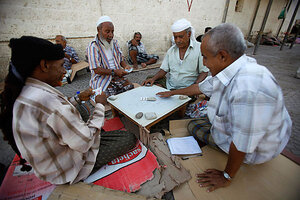 Khaled Abdullah/Reuters
The Times Square bombing was a reminder of the potential cleric Anwar al-Awlaki and others in Yemen have to inspire terrorist attacks. But academics and financial analysts who have spent time in the country lately say that a faltering economy, not militants, poses a greater threat to Yemen's stability.
Steadily rising prices in what was already the Arab world's poorest country is fomenting discontent and disrupting the patronage networks that have kept the state intact, they say. The central government faces a growing secession movement in the south, restless Houthis in the north, and a regional Al Qaeda branch that claimed responsibility for the failed Christmas Day bombing in Detroit.
"None of these issues are going to be the ones that overwhelm or destroy Yemen; it's the economy," says Christopher Boucek of the Carnegie Middle East program in Washington. "If you look at the way the Yemeni government has ruled, it's been through the politics of personal relationships, through corruption, through patronage... As the amount of money that the central government has slowly gets to be smaller and smaller the government will have less ability to maintain control."
---