Turkey, Brazil scramble to seal Iran nuclear fuel swap deal
A senior Turkish official said Friday that momentum for UN sanctions was building, even as Brazil and Turkey work to find a last-minute nuclear fuel swap deal that would allay Western concerns on Iran nuclear ambitions.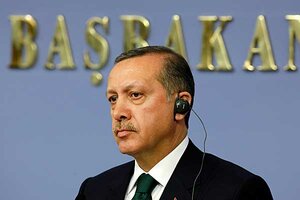 Umit Bektas/Reuters
Nuclear diplomacy is set to gather pace in coming days, with Brazil's president visiting Tehran over the weekend, hoping along with Turkey to find a last-minute compromise fuel swap deal between Iran and Western nations.
Yet even with recent signals from Iran toward rekindling a nuclear fuel plan that has languished for more than seven months, Turkey is tempering optimism that a diplomatic solution can be found in time. The US has been spearheading a push for a fourth set of UN Security Council sanctions on Iran to be imposed, possibly within weeks.
"There is nothing new going on" from the Iranian side, said a senior Turkish Foreign Ministry official on Friday. "But let me tell you, on the other side, the track on sanctions is building up steam."
Turkey: C'mon, we need concrete steps
A discussed trip to Tehran by Turkey's Prime Minister Recep Tayyip Erdogan to join his Brazilian counterpart Luiz Inacio Lula da Silva on Sunday is not likely, after a number of recent trips by foreign ministers between Tehran and Ankara. Turkey opposes sanctions, and currently holds a nonpermanent seat – like Brazil – on the 15-member Security Council.
---