Iran nuclear fuel swap deal: What it involves, and how it will affect US push for sanctions
The Iran nuclear fuel swap deal, brokered by Turkey and Brazil, was cast by many as a confidence-building measure. But Iran would still continue enriching uranium, in defiance of the UN Security Council.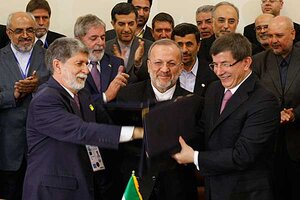 Vahid Salemi/AP
Tehran has agreed to ship the bulk of its enriched uranium to Turkey, in an Iran nuclear fuel swap brokered by Brazil and Turkey that is certain to complicate American efforts to impose new United Nations sanctions on Iran.
Under the deal, Iran would ship 1,200 kg (2,640 lbs) of low-enriched uranium (LEU) to Turkey, where it would be held. In exchange, it would be entitled to 120 kg of uranium enriched to 20 percent for its medical reactor, likely to be provided by France and Russia.
Iran said the deal was proof that Tehran does not want nuclear weapons, because it would deprive the Islamic Republic of the immediate ability to enrich its stockpile of uranium further and build a nuclear weapon. While Western countries did not embrace the deal immediately, most analysts cast it as a confidence-building measure.
"What it really says is the Iranians want to deflect the sanctions … and it's a way of telling the international community that they are not on a crash course to get nuclear weapons," says Shahram Chubin, a Geneva-based Iran specialist with the Carnegie Endowment for International Peace.
---
Follow Stories Like This
Get the Monitor stories you care about delivered to your inbox.