Clutching flowers, American mothers visit detained US hikers in Iran
Shane Bauer, Sarah Shourd, and Josh Fattal were briefly let out of Evin prison to visit their mothers in a Tehran hotel. The mothers want to bring their children home, but Iran may be waiting for a prisoner swap with the US.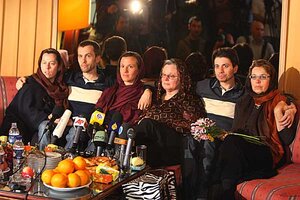 AP
Three Americans accused of spying in Iran were temporarily let out of Evin prison to meet their mothers at a Tehran hotel on Thursday. The mothers called on Iranian authorities to free their adult children, who have been held since July 2009 for crossing illegally from northern Iraq into Iran.
Clutching flowers and wearing conservative Islamic dress, the mothers hugged the three in a tearful reunion broadcast by Iranian state media. Shane Bauer, Sarah Shourd, and Josh Fattal say they accidentally strayed across the border while hiking.
"Please, please let them go," Mr. Bauer's mother Cindy Hickey said after the two hour meeting. "It would be a good gesture for the world to see Iran doing a humanitarian act."
The mothers hoped to bring their children home, but were uncertain if Iranian allegations of spying would be dropped. "We have requested their freedom but I don't know what will happen," Mrs. Hickey said at a press conference, in which all six appeared before microphones and cameras.
Mothers, prisoners praise good treatment
Ms. Shourd said it was "difficult" to be alone so much of the time, while her two male friends were able to be together. It was "terrible to be away from our families for this long," she said. "We've only received one phone call and that was five minutes long and that was amazing – we waited and prayed for that every day. This [meeting] is something obviously we've been praying for and it makes a huge difference."
---
Follow Stories Like This
Get the Monitor stories you care about delivered to your inbox.