As US troops leave, Iraqis fear prison torture will widen
Despite the Abu Ghraib scandal, US troops are now seen as protectors of human rights. Iraqis say they are being tortured in Iraqi secret prisons.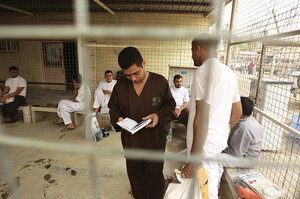 Thaier al-Sudani/REUTERS
Bashar al-Dulaimy says he often thinks back to the day he almost died in Iraqi detention.
Mr. Dulaimy, a hotel worker who had gone to visit a neighbor, was detained at Iraq's Ministry of Interior three years ago after police discovered he was from Fallujah.
"They broke my teeth, my nose, and my ribs," he says. An officer overseeing the beating had just ordered that he be taken out and killed when a US patrol pulled up. He says all but one of the Iraqi police scattered."They left because they were afraid of what the Americans would do."
As the US prepares to withdraw from Iraq, serious concerns are surfacing about systematic torture by Iraqi forces in a country where ending human rights abuses was one of the main American goals.
Many Iraqis believe the abuse is part of ongoing political power struggles that could again turn violent.
"All the people feel that politicians here are just waiting for the Americans to leave to take off their masks and show their true faces," says Dulaimy.
The US has spent tens of millions of dollars in Iraq on human rights training, and hundreds of millions of dollars more on instilling the rule of law – training judges, lawyers, and forensic experts and building courthouses.
But as the US forces that provided a deterrent to widespread human rights abuses have pulled back, and in many cases moved out of the picture completely, there remains almost no daily oversight by international observers in a climate rife with corruption and intimidation.
---