As sanctions loom, is Iran sending peace signals to the US?
Beyond the usual anti-American rhetoric, some analysts say that Iran is trying to avoid sanctions and resolve tensions with Washington over its nuclear program.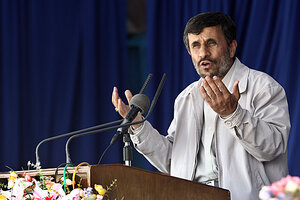 Hamed Malekpour/Fars News Agency/AP
Iran's triumphant anti-American rhetoric may have hardly changed.
Supreme Leader Ayatollah Seyyed Ali Khamenei declared on Monday that countries around the world "thirst" for Iran's message of "values, humanity and deliverance of nations from the grip of domineering powers."
President Mahmoud Ahmadinejad recently announced, "Iran is the world's most powerful country, and they [Western powers] themselves admit this." He routinely proclaims that the US, West, and its capitalist ways have "collapsed."
But behind the usual high-pitched pokes from Tehran, analysts say several Iranian actions signal a serious desire to resolve the nuclear standoff – and perhaps even to find a limited rapprochement with arch-enemy America.
The Iranian olive branches, they cite:
Are those Iranian signals real? And is the United States listening?
---