Brazen Baghdad gold heist leaves trail of dead
Seventeen gunmen killed 14 people in a series of thefts from a gold jewelry market in Baghdad. The brazen daylight attack was seen as another sign of deteriorating security in Iraq.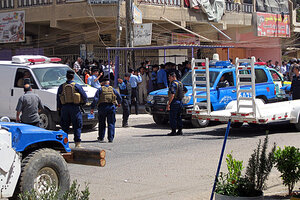 Khalid Mohammed/AP
Gunmen wearing scarves to hide their faces laid siege to a shopping district in southwestern Baghdad just before noon Tuesday, killing at least 14 people in a robbery of several gold shops, Iraqi authorities said.
In the hunt for the attackers, investigators held the area's security officials for questioning and sealed off much of Bayaa, a commercial hub that's lost shoppers in recent years after vicious sectarian cleansing turned it into a predominantly Shiite Muslim enclave. One of the assailants was killed in a gun battle with police; two others were detained.
The brazen midday attack was the latest sign of insecurity as Iraq's top leaders focus on forming a new government. On Monday night, a newly elected parliament member, Bashar al-Ageidi, was assassinated in his volatile hometown of Mosul, in northern Iraq. A series of deadly bombings and attacks since the March 7 parliamentary elections has sown fears of a security void during the government's transitional period.
About 17 heavily armed assailants spilled out of several cars that pulled up to a cluster of shops Tuesday on Bayaa's busy Street 20, according to the Iraqi security command in Baghdad. The gunmen shot into the air and threw percussion grenades, whose loud booms sent passers-by scrambling for safety, which cleared space for the attackers to enter jewelry shops and kill anyone inside before stuffing bags full of gold, authorities said.
---
Follow Stories Like This
Get the Monitor stories you care about delivered to your inbox.