Israel's concern: Gaza aid flotilla will help Hamas
If the 700 activists on a aid flotilla arrive in Gaza, will they side-step – or work with – the increasingly cash-strapped Hamas government? The aid flotilla goal is to break through Israel's naval blockade and distribute 10,000 tons of supplies to Palestinian civilians.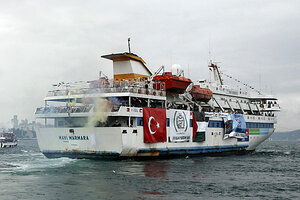 Emrah Dalkaya/Reuters
Preparations for a potential confrontation between Israeli naval forces and a humanitarian flotilla headed for Gaza intensified on Thursday.
Israel, adamant that the pro-Palestinian activists would not be permitted to break its naval blockade of Gaza, constructed several massive tents intended to hold the activists at its main southern seaport. The activists rejected calls to abort their mission and vowed to press on as Hamas prepared a Gaza port for their arrival.
One of Israel's main concerns, an Israeli army spokesperson said on Thursday, was that the eight-ship flotilla could smuggle militants or weapons into the Hamas-run territory.
Flotilla organizers are adamant they have no connections to the Islamists, and there is no evidence that either weapons or foreign fighters were ferried in by similar convoys in the past few years. But if the activists make it to Gaza, they are unlikely to be able to side-step the increasingly repressive and cash-strapped Hamas government in their attempts to get aid to the civilian population.
"Every time aid like this comes from abroad, it goes through Hamas, everybody knows that," says Gaza-based Palestinian political analyst Talal Okal. "They want to show that they dominate everything, and that everything in Gaza passes under their eyes. So, if these boats arrive, Hamas will receive it [the aid] and distribute it how they want, to their supporters and according to their policies."
---