Israel allows Palestinians on highway 443 to Ramallah – but blocks the exit
After a landmark court ruling, Israel's army today allowed Palestinians access to Road 443 for the first time in eight years. But they are still barred from using the road to get to Ramallah and Jerusalem – a 'farce' of the ruling, said one activist.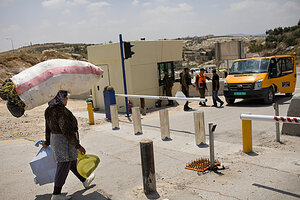 Bernat Armangue/AP
Beit Ghur a-Tahta, West Bank
For the first time in eight years, Israel today allowed Palestinians to drive on a four-lane highway that passes by this and five neighboring Arab villages.
The relaxation complies with a landmark decision by Israel's High Court in December, and comes on the heels of Israel's separate announcement this week that it will ease restrictions on Palestinian movement and commerce elsewhere in the West Bank to build confidence in fledgling negotiations mediated by the US.
Built in the late 1980s on land expropriated from Palestinians, Road 443 has become a major artery for Israeli commuters but due to military concerns it was shut off to Arab motorists, forcing them to take inferior roads. It also has come to symbolize how Israeli security restrictions had created separate road systems in the West Bank for Israelis and Palestinians, which some argue is an echo of apartheid-era South Africa.
Despite the opening, however, many Palestinians villagers see the move as taking one step forward and two steps back, highlighting how years of roadblocks has eroded optimism about peace talks.
Villagers' access to 443 will be controlled by new checkpoints and Palestinians will still be barred from passing through the checkpoints at exits for Jerusalem and Ramallah – the seat of the Palestinian government and a major urban center.
---