Israel's deadly Gaza flotilla raid sparks diplomatic crisis
Prime Minister Benjamin Netanyahu canceled a visit to the White House in the wake of the Gaza flotilla raid, in which Israeli forces killed at least 10 while preventing humanitarian ships from breaching Israel's blockade of Gaza.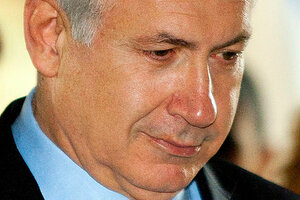 Sean Kilpatrick/The Canadian Press/AP
An Israeli naval raid on a flotilla bent on breaking its blockade of the Gaza Strip with a cargo of humanitarian supplies is sparking an international diplomatic crisis for the Jewish state after at least 10 activists were killed and dozens wounded in clashes with soldiers.
The Gaza flotilla raid prompted Prime Minister Benjamin Netanyahu to cancel a visit to the White House, while Israeli diplomats were summoned to foreign ministries across Europe.
Turkey, a departure point for the flotilla, has recalled its ambassador to Tel Aviv for consultations and called for the convening of the United Nations Security Council to discuss the incident.
Israel, meanwhile, is bracing for the negative fallout.
"It will have a huge impact," says Alon Liel, a former Israeli diplomat. Mr. Liel said the incident could undermine peace talks with the Palestinians and lead to a freeze in relations with Turkey. "It's a red light to the Israeli government that, if now you didn't understand, you are in the wrong direction.''
---
Follow Stories Like This
Get the Monitor stories you care about delivered to your inbox.