Egypt eases own Gaza blockade after Israel Freedom Flotilla raid
Egypt partially opened its border with the Gaza Strip on Wednesday, bowing to public fury over the Gaza blockade in the wake of an Israeli raid on the so-called Freedom Flotilla carrying humanitarian aid.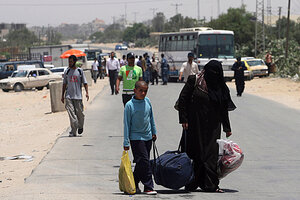 Eyad Baba/AP
Egypt partially opened its border with the Gaza Strip on Wednesday, briefly suspending its participation with Israel's blockade of the impoverished Palestinian territory.
Egyptian President Hosni Mubarak's decision followed Israel's deadly raid on the "Freedom Flotilla" trying to bring aid to Gaza earlier this week, which has stoked outrage across the world, perhaps nowhere more so than in Egypt. The Egyptian government's 1979 peace deal with Israel is deeply unpopular with its citizenry, who are also angry that their government is adding to the burdens of Gazans.
The border opening was mostly about symbolism, with the Mubarak government bending to the pressure to end its participation in the blockade without breaking. More than 100 Palestinians were allowed through the Rafah crossing into Egypt Wednesday and several truckloads of goods were sent into Gaza. But Egypt restricts the types of goods allowed into Gaza and only Palestinians with special permits are allowed to cross – mostly students and those seeking medical treatment.
IN PICTURES: The Gaza flotilla and the aftermath of the Israeli naval raid
---
Follow Stories Like This
Get the Monitor stories you care about delivered to your inbox.