Israel rejects international investigation of Freedom Flotilla raid
But Israeli leaders – including far-right Foreign Minister Avigdor Lieberman – say they are open to US involvement in a domestic investigation of the Israeli raid that killed nine activists on the Gaza-bound "Freedom Flotilla."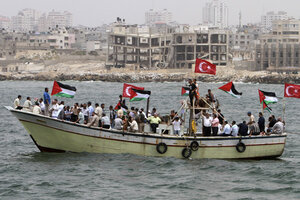 AP Photo/Adel Hana
Israeli leaders on Thursday rejected growing calls for an international investigation of its fatal intercept of the Gaza-bound "Freedom Flotilla." But they are weighing whether to include foreign observers in a domestic probe, a move that would help deflect international criticism after Israeli commandos killed nine pro-Palestinian activists.
A decision to include international involvement would mark an evolution from last year, when, in the wake of the three-week offensive in Gaza, Israel resisted calls to set up its own independent investigation committee and refused to cooperate with the United Nations inquiry headed by Richard Goldstone.
But part of the shift may be an Israeli perception that its prospects for vindication are greater this time around. An investigation of the isolated flotilla operation is seen as likely to be more straightforward than those that looked into the 2008-2009 Gaza war or Israel's 2002 invasion of a Palestinian refugee camp in Jenin that killed dozens.
IN PICTURES: The Gaza flotilla and the aftermath of the Israeli naval raid
"It is a change in policy, but also reflects a change in circumstances," says Gerald Steinberg, a political science professor at Bar Ilan University. "The facts here are easy to establish, unlike Gaza and Jenin and numerous other incidents where the combat made it hard…. Clearly having an investigation which involves a neutral foreign observer will be an important response to the one-sided Goldstone process."
---