As MV Rachel Corrie draws nearer, Israel mulls easing Gaza blockade
After a week of intense international criticism for its raid on the Gaza 'Freedom Flotilla,' a senior Israeli official told the Monitor the government may ease the blockade that the MV Rachel Corrie is now drawing fresh attention to.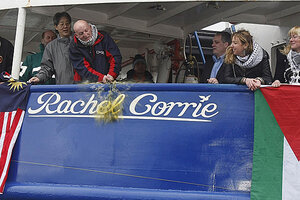 Niall Carson-pa/AP/File
The MV Rachel Corrie, carrying another group of pro-Palestinian activists seeking to challenge the Gaza blockade, sailed toward a possible clash with Israel in the Mediterranean on Friday. But Israel said it had no desire for a fresh confrontation five days after an Israeli commando raid on the "Freedom Flotilla" resulted in skirmishes with activists wielding metal rods, clubs, and knives. Nine activists were killed.
"We have no desire for a confrontation,'' read a statement by Israel's Foreign Ministry, though Israeli leaders said the country would continue to enforce a naval blockade. "We have no desire to board the ship.''
Israel has come under intense international pressure to ease a three-year blockade on Gaza after Israeli navy's fatal raid on the Mavi Marmara, which was carrying the bulk of the flotilla's activists and 10,000 tons of aid. A senior US official was quoted in The New York Times as saying not only the US, but Israel, too, has realized that the Gaza blockade has become untenable. Now, as a possible fresh showdown looms, Israel is considering relaxing its restrictions on goods passing into the Gaza Strip.
---