Obama's stature among Muslims slips over Israeli-Palestinian standoff
A year after Barack Obama's famous Cairo speech, failure to make headway in resolving the Israeli-Palestinian conflict has become a focal point for disappointment among Muslims. Sixty percent of Arabs say he's too weak to deliver a peace agreement.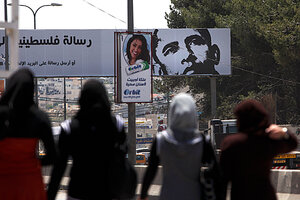 Tara Todras-Whitehill/AP
A year after President Obama pledged a new beginning to US-Muslim relations in a historic speech here, much of the excitement he inspired is turning to disappointment.
The Cairo speech, in which Mr. Obama outlined a relationship based on mutual interests and respect, left many in the region hopeful of significant change from Bush policies. But while many still believe that Obama has good intentions, the perception that he has failed to deliver on his promises has deflated those hopes and led some to conclude he is backing down from positions laid out on June 4 last year.
Former investment banker Rana Jarbou of Saudi Arabia says none of Obama's efforts so far have been in line with the "new beginning" he pledged. She has been disappointed with what she views as a turn to Bush-era rhetoric about terrorism, which she fears could be used as a pretext for attacking Iran, and what she calls his unilateral decision to send more troops to Afghanistan.
"With regard to the Palestinian-Israeli conflict, no concrete steps have been made, and the whole region is definitely affected and influenced by this conflict," says Ms. Jarbou, now an aspiring social entrepreneur. "It didn't take too long to make note of his contradictory approach."
Israel's raid May 31 on a humanitarian flotilla set for Gaza, which left at least nine activists dead and brought fierce criticism on Israel from governments around of world, has brought further calls for Obama to prove he is an ally to Muslim countries.
---