Turkey-Israel crisis: Why the formerly obscure IHH is playing a key role
Turkey-Israel ties have been shattered by Monday's raid on the IHH-owned Mavi Mamara, the largest boat in the Gaza 'Freedom Flotilla.' Turkey's push for democracy has given the IHH new prominence.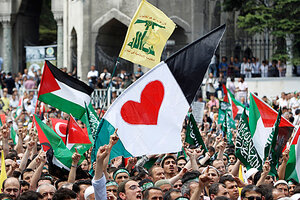 Murad Sezer/Reuters
At the heart of the diplomatic crisis between Israel and Turkey over the Gaza 'Freedom Flotilla' lies the rise of the previously obscure IHH. The Turkish Islamic nongovernmental organization (NGO) bought and manned the Mavi Mamara, by far the largest boat in the flotilla and the one that saw a fatal skirmish between rod-wielding activists and Israeli commandos who killed nine activists after resorting to gunfire.
It was the financial heft of the IHH that set this flotilla apart – even before the Israeli raid – from previous convoys that had bobbed toward the blockaded Gaza Strip with little effect. But Israel is troubled that its ally Turkey has in effect paved the way for such a group to rise to a position of such strength and influence.
Indeed, some very profound changes, both promising and troubling, have reshaped the landscape of Turkish society. The Islamic-rooted Justice and Development Party (AKP) of Prime Minister Recep Tayyip Erdogan has driven a wide-reaching effort at democratization and liberalization since coming to power in 2002. This has allowed civil society organizations to flourish – a phenomenon that has been especially pronounced for Islamic groups, which had previously been targeted by secularist state institutions.
IN PICTURES: The Gaza flotilla and the aftermath of the Israeli naval raid
---