US cluster bombs in Yemen: The right weapon in Al Qaeda fight?
A June 7 report from Amnesty International offers photographs of US-made cluster bombs that it says were used in a December attack against suspected Al Qaeda members.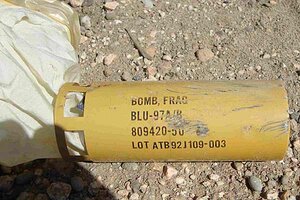 Amnesty International/Reuters
An Amnesty International report released today has found that US weapons were involved in a December attack on suspected Al Qaeda members in Yemen.
The findings, which confirm what many analysts have long suspected, could quiet American fears that the US hasn't been active enough in cracking down on Al Qaeda in the Arabian Peninsula (AQAP), which claimed responsibility for the failed Christmas Day bombing of a Northwest airliner. But the assertion of US involvement also could give Yemen-based militants a powerful new recruiting tool.
Just as high civilian casualties in US attacks on militants have fed extremism in Iraq and Afghanistan, the same phenomenon is now playing out in Yemen, says Yemen specialist Gregory Johnsen.
---