Mahmoud Ahmadinejad warns West not to miss last Iran nuclear 'opportunity'
President Mahmoud Ahmadinejad said a possible Iran nuclear fuel swap is a one-time opportunity that could be squandered if the UN approves a fourth round of Iran sanctions this week.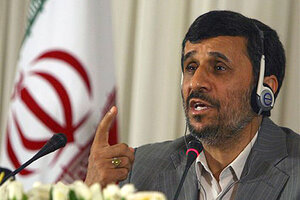 Burhan Ozbilici/AP
On the eve of an expected United Nations Security Council vote for new sanctions against Iran, President Mahmoud Ahmadinejad warned world powers against jeopardizing a one-time "opportunity" to engage Iran on its nuclear program.
"The US government and its allies are mistaken if they think they can brandish the stick of [a] resolution and then sit down to talk with us – such a thing will not happen," Mr. Ahmadinejad said during a regional security summit taking place in Istanbul this week.
Still on the table, but with a muted response from the West so far, is a nuclear fuel swap deal brokered by Turkey and Brazil in Tehran on May 17. In the deal, Iran would send about half its homemade low-enriched uranium to Turkey, and receive higher-enriched reactor fuel from a third party, which has not yet been named.
---