Afghan Taliban hone hit-and-run tactics, assassination campaign
The Afghan Taliban is waging an assassination campaign against government officials in Kandahar. Their hit-and-run fight marks bid to draw NATO forces into a war of attrition.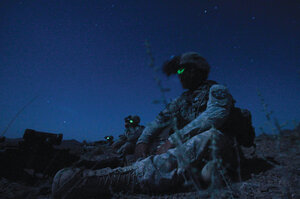 Julie Jac Obson/AP
The high-velocity snap of a bullet passing the lanky sentry from South Carolina was the first sign combat outpost Fitzpatrick was under attack.
Men scrambled for weapons and flak jackets, running up the stairs to the roof of the pink cinder block building that had once been a police station. "Go, go, go!" went the yell to civilians caught in the open. Already soldiers were scanning the lush green foliage for movement. Then snap, snap, snap – more bullets passing by, and the platoon's first sergeant, Samuel Frantz, was calling for "203s on that tree line over there."
Within minutes, Kiowa attack helicopters arrived, swooping low in search of the Afghan Taliban gunman – standard operating procedure here. It might have been just another hit-and-run, but as the Kiowas circled in the unforgiving sun, a larger Taliban raid began against a base down the road.
The potshots had been a diversion.
"They've watched us all winter, seeing how we work," platoon leader Lt. Mark Morrison said moments afterward. "Wherever [the Kiowas] were at, they got drawn over here and that's when [the Taliban] opened up on Howz-e-Madad. It [bought] them probably two to three minutes to try to effect something."
In the half-deserted village of Pashmul, two American platoons in combat outposts three-quarters of a mile apart – pocket fortresses divided by a maze of greenery and mud houses – hold the line. For the soldiers, life is a hot, dusty cycle of tedium, guard duty, and sudden, explosive violence.
---
Follow Stories Like This
Get the Monitor stories you care about delivered to your inbox.