Israel to set up inquiry on 'Freedom Flotilla' raid
Israel is expected on Friday or Saturday to appoint a former Supreme Court judge and foreign observers to an inquiry panel that will investigate the fatal Israeli raid of the 'Freedom Flotilla.'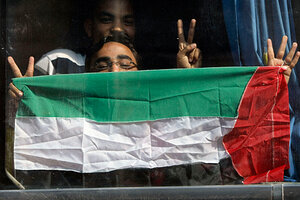 Ben Curtis/AP
Israel was expected to appoint an inquiry panel on Friday to investigate its fatal intercept last week of the Gaza-bound "Freedom Flotilla," responding to pressure from allies abroad to account for the violence that sparked an international uproar. Nine of the more than 700 pro-Palestinian activists who challenged Israel's naval blockade of Gaza were killed in the raid.
Both US and European diplomats have been involved in helping Israel set up the inquiry. Israeli media have reported that the panel will include a former Israeli Supreme Court judge, along with US and European observers – an attempt to produce the "credible'' report demanded by the international community. The inquiry could also reassess the three-year blockade of the Gaza Strip, which Egypt has also supported.
"When you have more than one set of eyes looking at it that adds to the credibility,'' says Kurt Hoyer, press attache at the US embassy in Israel. "It's in everybody's interest to get a good investigation, we want to know the facts, it will be clear and we want to move on from there.''
IN PICTURES: The Gaza flotilla and the aftermath of the Israeli naval raid
But the inquiry is not expected to enjoy the same legal or political standing as those set up after Israeli wars, such as the ability to subpoena witnesses and to recommend a resignation, according to media reports.
---