Nobel laureate aboard Rachel Corrie: 'We were kidnapped' by Israeli navy
Mairead Corrigan Maguire was one of five Irish activists who challenged the Gaza blockade aboard the Rachel Corrie just days after a fatal Israeli raid on the "Freedom Flotilla." She shared her account with the Monitor.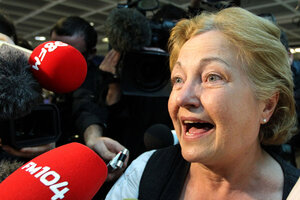 AP Photo/Peter Morrison
Nobel Peace laureate Mairead Corrigan Maguire was one of five Irish activists who rode the MV Rachel Corrie toward Gaza last week in a follow-up attempt to break the blockade after Israel's fatal raid on the "Freedom Flotilla" May 31.
Ms. Maguire, a Northern Ireland peace activist, is the youngest person ever to win the Nobel Peace Prize. She received it in 1976 at age 32 for her work in mobilizing hundreds of thousands of women to demand an end to violence in Northern Ireland.
Maguire is a frequent visitor to Israel and the Palestinian territories, who has made news in the region before. In 2004, for example, she traveled to Israel to welcome home nuclear engineer Mordechai Vanunu, who had just been released from prison for divulging Israel's nuclear program to a British newspaper in 1987. In 2007, Maguire was struck in the leg with a rubber bullet during a march from Ramallah to the separation barrier erected by Israel to guard against Palestinian suicide attacks in Israel proper.
IN PICTURES: The Gaza flotilla and the aftermath of the Israeli naval raid
---
Follow Stories Like This
Get the Monitor stories you care about delivered to your inbox.