Tense calm on eve of anniversary of disputed Iran election
One year after the disputed Iran election that returned President Ahmadinejad to office, many say the revolution and the regime have lost legitimacy. Green Movement opposition leaders, who called off a rally, are facing growing criticism of their tactics.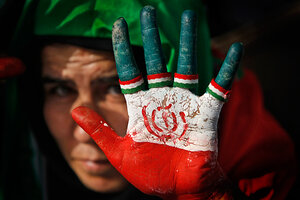 Ben Curtis/AP/File
Battle lines remain drawn as Iran marks the one-year anniversary on Saturday of a disputed presidential election that sparked weeks of bloody protests that Revolutionary Guard commanders say brought the Islamic regime to the "edge of a downfall."
There may be clashes on June 12, if protesters defy warnings to stay at home. Or there may be tense calm: Denied permits, opposition leaders on Thursday called off demonstrations due to the "dark history of the past year" of violence, and to "preserve people's lives and property."
Either way, say many Iranians and analysts, Iran in the past year has irreparably changed, the legitimacy of the regime undermined by an election widely seen as fraudulent and by violence against fellow Iranians.
"Oppression is severe, but at the same time [the opposition] know the Islamic Republic is going toward its end, because they can see it running out of breath," says Massoumeh Torfeh, an Iran specialist at the School of Oriental and African Studies (SOAS) at the University of London.
"They are sitting there and waiting," says Ms. Torfeh. "They realize they have had the most powerful and brutal regime attacking them. But at the same time … they are thinking. These are young, educated, futuristic, computer-savvy people [and] this is giving them time to think and to regroup."
Vote was 'divine assessment'
---
Follow Stories Like This
Get the Monitor stories you care about delivered to your inbox.