Iraq parliament sits; politicians say new government months away
Three months after elections, Iraq's parliament met for the first time in a short meeting to swear in new members. Politicians say negotiations on forming a new government could still be months away from completion.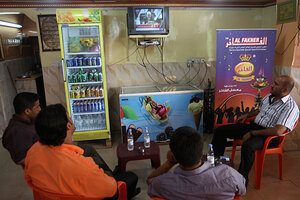 Karim Kadim/AP
Iraq's parliament was sworn in Monday in an abbreviated session that some politicians said marked the beginning of greater political problems.
Almost all the 325 members gathered along with foreign diplomats at Saddam Hussein's former convention center to pledge to protect Iraq's sovereignty and independence.
"The will of the people has been implemented," acting Speaker Fouad Massoum said in opening the second parliamentary term since Mr. Hussein was toppled. The chambers were a sea of tribal robes, business suits, head scarves, and glittering Kurdish dresses. Many of the Kurdish members made a point of reciting the oath of office in Kurdish rather than Arabic. Some members said this was the first time in memory that President Jalal Talabani, himself Kurdish, had missed a major ceremony.
Mr. Talabani's absence was part of the attempt to keep the session as perfunctory as possible, according to Mr. Massoum.
The session ended after less than 20 minutes. As expected, a new speaker was not chosen. Iraq's factions continue to negotiate over who will take key posts in the next government, including prime minister and president. To bypass a constitutional requirement that a speaker and two deputies be chosen at the first meeting, the session was technically left open.
---