Israel announces Gaza aid flotilla inquiry, Turkey not satisfied
Israel opened a limited investigation into the legality of its raid on the Gaza aid flotilla. Irish and Canadian observers will participate. Israel and the US hope the move will reduce the country's international isolation, but critics say plan doesn't go far enough.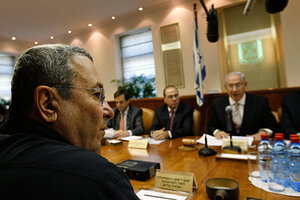 Baz Ratner/AP
Seeking to allay criticism of its fatal raid on a boat participating in the Gaza aid flotilla that challenged the economic blockade of the Palestinian territory, Israel said it will create a commission to investigate the legality of its decision to board the boat in international waters.
The Israeli cabinet unanimously approved the creation of the domestic commission, which will also include an Northern Ireland politician and Nobel Peace Prize winner David Trimble and a Canadian legal expert as non-voting observers. The commission will not have the power to investigate the Israeli military, and is well short of the independent international investigation demanded by Turkey, nine of whose citizens were killed in the Israeli raid.
But coupled with an expected relaxation of Israel's siege on the coastal strip controlled by Hamas, analysts here believe the commission could potentially ease Israel's isolation as well as broader pressure for an international probe. The US has backed the Israeli investigation, as have some European governments.
IN PICTURES: The Gaza flotilla and the aftermath of the Israeli naval raid
---