Gaza flotilla raid: Will it change Turkey's regional role?
Anger with Israel over the Gaza flotilla raid, which ended in the deaths of nine Turkish activists, has illustrated the difficulty of Turkey's effort to bridge East and West.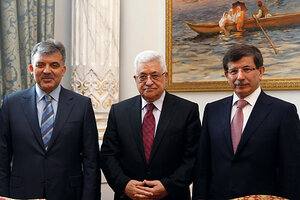 Murad Sezer/Reuters
This spring, Turkey emerged as a more independent player – one embarking on an ambitious "neo-Ottoman" course, as some have put it. The shift, in the making for nearly a decade, has ruffled feathers in Europe, the US, and Israel, which had all come to depend on Turkey as an ally, trade partner, and NATO member.
Indeed, Turkey apparently wants to wed 21st-century prosperity with the global power its predecessor, the Ottoman Empire, once wielded at the crossroads of Europe, Asia, and Africa. Key to that goal is improving security in the Middle East.
Turkey's image in the world has come into sharp relief with Israel's May 31 raid on the Gaza-bound "Freedom Flotilla," an encounter that ended with the deaths of nine Turkish activists and sharp international criticism of Israel. Turkey's stance since the raid has prompted many to question whether it is abandoning efforts to establish itself as a mediator between Israel and its Muslim neighbors, as well as turning away – to some degree – from Europe. But Turkey, which seeks an apology from Israel as well as compensation for victims of the raid, indicated Wednesday that it would move cautiously toward any downgrade of its relations with Israel, despite grave damage to the relationship.
IN PICTURES: The Gaza flotilla and the aftermath of the Israeli naval raid
---