Israel eases Gaza blockade, allowing building supplies and ketchup
Israel says it will allow construction materials into Gaza for civilian projects only. In response to international pressure, Israel will ease the Gaza blockade on food, toys, and kitchen utensils.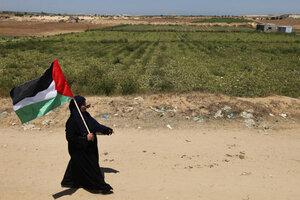 AP Photo/Lefteris Pitarakis
Israel's security cabinet today approved changes to the Gaza blockade that will potentially allow a range of food and building materials in for the first time in three years. But Israel will continue strict security checks at crossings into the Gaza Strip to prevent weapons from reaching militants.
The shift could mark a victory for the pro-Palestinian Gaza aid flotilla that challenged Israel's naval blockade on May 31, sparking violence that left nine Turks dead and a diplomatic uproar for Israel.
An easing of the Gaza siege might spur business activity in the blighted territory of 1.5 million Palestinians, say analysts, giving Hamas an economic and political lifeline after Israel's blockade failed to turn ordinary Gazans against their Islamist government.
IN PICTURES: The Gaza flotilla and the aftermath of the Israeli naval raid
But Hamas dismissed the Israeli move as a public relations gambit. The cabinet decision "is nonsense and useless,'' says Ahmed Yousef, the deputy foreign minister in the Hamas government in Gaza. "[Israel] wants to deceive the world and say that it is easing the siege. We are not in need of ketchup or mayonnaise. We need construction and industry raw materials to be let in."
---