A bigger threat to Iraq than Al Qaeda? Power cuts.
The US and Iraq have spent billions on concrete blast walls and other measures to protect against insurgent groups, including Al Qaeda. But power cuts and rolling blackouts are feeding public discontent over a lack of electricity.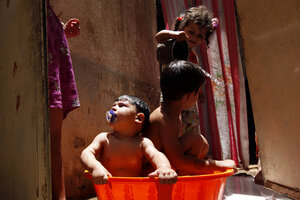 Hadi Mizban/AP
Iraq's electricity minister offered to resign Monday night over power cuts that have sparked fatal protests. But the move has failed to quell anger over what Iraqis widely describe as a war being waged against them by uncaring and corrupt politicians.
On a street of small blacksmith shops in Baghdad's Karrada neighborhood, shop owner Mohammad Mahmoud al-Tikmachi says he's had to spend more than $10,000 on a generator to keep his business going. The fuel costs for the generator have more than doubled the prices of iron window frames and gates, making them unaffordable for many homeowners.
"That's why business has slowed down," says Mr. Tikmachi. "Everything in our life depends on electricity. This is warfare against the citizens."
"Maybe it will be better in 300 years," jokes a customer in Tikmachi's shop as workers weld together iron bars in sweltering heat after sleepless nights in homes with no electricity.
The Iraqi government has promised Baghdad residents two hours of electricity out of every six, but even that modest target has fallen far short. The inability of the government to provide reliable electricity seven years after the fall of Saddam is seen as more potentially destabilizing than the continued car bombs and suicide attacks.
While the US and Iraq have invested heavily in security, the lack of electricity has denied Iraqis not only basic comforts but also the ability to rebuild their country, their economy, and their own lives. With the onset of summer, when temperatures can reach 150 degrees F., public discontent has erupted across the country.
---