Egypt's denial of police brutality in Khalid Said death spurs fresh protest
More than 11,000 Egyptians have responded to a Facebook call for a Friday protest of police brutality in the death of Egyptian businessman Khalid Said. After a second autopsy, Egypt today upheld the original finding that the man had choked on a bag on drugs.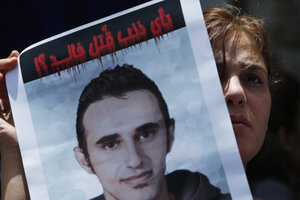 Nasser Nasser/AP Photo
Egypt's general prosecutor said Wednesday that the results of a second autopsy uphold the conclusion that a young Egyptian businessman whose death has incited anger and protests died from choking on a bag of drugs – not from a police beating.
Witnesses say that police dragged Mr. Said out of an Internet cafe in Alexandria June 6 and beat him to death in the street. Graphic photos of his facial injuries, circulated on the Internet, support their account. Said was reportedly targeted because he was planning to make public a video that shows police officers dividing the spoils of a drug bust.
The prosecutor general ordered a second autopsy after Said's case sparked an uproar, with protests in Cairo and Alexandria and international calls for an investigation. The US last week urged Egypt to conduct a "transparent" investigation of Said's "troubling" death.
'It's clear there's something wrong in this report'
The conclusion of both autopsies – that Said's death was caused by asphyxiation from a plastic bag of marijuana lodged in his throat – are likely to fan anger among Egyptians, who have used Said's case to protest the torture and police brutality that is widely considered to be systemic in Egypt's police and security forces.
"It's clear to everyone that there is something wrong in this report," says Moataz El Fegiery, executive director of the Cairo Institute for Human Rights Studies. "It's a complicated situation, but what I'm sure about is that the Egyptian people and human rights organizations do not trust the medical examination and the prosecution. The current case has unveiled a deep confidence crisis in this important institution in Egypt."

The prosecutor-general, Abdel Meguid Mahmud, said the new autopsy confirms that "light" injuries Said sustained when police tried to subdue him did not cause his death.
---