In Israel, Gilad Shalit's family launches 12-day march to Netanyahu's door
Four years after Gilad Shalit was abducted by Hamas on the border of the Gaza Strip, his family is marching to Jerusalem and vowing to camp outside Netanyahu's door until Israel brings Shalit home.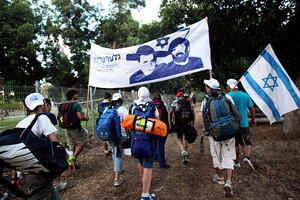 Nir Elias/Reuters
Less than a week after quieting international criticism over the Gaza flotilla by easing Israel's blockade on the Gaza Strip, Israeli Prime Minister Benjamin Netanyahu is under new pressure over Gaza – from Israelis.
The family of abducted Israeli soldier Sgt. Gilad Shalit argued last week that by easing the blockade the government had forfeited its leverage in prisoner swap talks with Hamas. Now, the Shalits – tapping a wellspring of public sympathy for the boyish soldier whose image adorns shops, signs, and billboards across Israel – are taking what some see as a page out of the flotilla's PR playbook by staging an event Israel can't afford to ignore.
Joined by thousands of supporters, the Shalits embarked Sunday on a 12-day march from their home in northern Israel to Jerusalem. They have vowed to camp outside Mr. Netanyahu's door until their son comes home, pressuring the premier to make the concessions necessary to secure his freedom – including the release of hundreds of Hamas activists.
"The Shalit family and the supporters have learned from the organizers of the flotilla that if you want to get anything done you have to pressure the Israeli government and create a major PR event to deliver your message,'' says Meir Javedanfar, a Middle East expert based in Tel Aviv. "This is why they are raising the pressure.''
Shalit captured four years ago this month
---