Iran nuclear fuel swap: What's happening now
Tehran says it will hold talks with Turkey and Brazil over the Iran nuclear fuel swap, despite announcing yesterday a two-month delay in broader negotiations meant to 'punish' the West.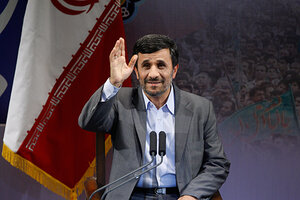 Vahid Salemi/AP
Angered by the failure of an Iran nuclear fuel swap to avert fresh sanctions, Tehran has declared a two-month freeze on any broader nuclear talks. The move puts Turkey – which has been trying to break the impasse over Iran's nuclear program – on the back foot just six weeks after it brokered the deal, along with Brazil.
"We are postponing the talks because of the bad behavior and the adoption of the new resolution in the (UN) Security Council," President Mahmoud Ahmadinejad said in Tehran yesterday. "This is a penalty, so that that they are disciplined to learn the way of talking to other nations."
Mr. Ahmadinejad added that Turkey and Brazil would side with Iran in any talks with the US, Russia, and France, and that the fuel swap deal "is a way for engagement and this is better than confrontation."
---