Syria courts Latin America for oil, trade, and expats
President Bashar al-Assad visits Argentina and Brazil this week on a tour to boost Syria's political and economic standing. Many Syrian expats in the region, which has long attracted those looking for work, have become wealthy.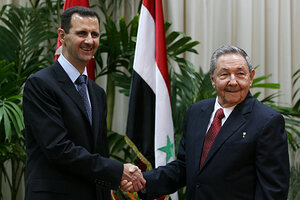 Prensa Latina/Ismael Francisco/AP
Syrian President Bashar al-Assad is touring Latin America in a bid to boost the country's economic and political standing as renewed relations with the US and Europe prove less fruitful than Syria had hoped.
With a rapidly increasing population and an ambitious plan for reform, Syria plans to invest $130 billion by 2015, $77 billion of which is earmarked to come from the private sector. Many Syrians who emigrated to Venezuela – where Mr. Assad stopped this weekend – and Argentina and Brazil, which he will visit this week, have become rich.
"This visit is predominantly to attract investment," said Ayman Abdel Nour, a Syrian economic analyst and author of the liberal news site All4Syria. "Latin America is an obvious choice because of the wealthy expatriate community."
Syria has long enjoyed good relations with the continent, which has attracted Syrian emigrants in search of work since the 18th century. With so many people of Arab descent, Damascus hopes Latin America countries can help alleviate its trade deficit, which reached a record $4 billion in 2008.
---