US-Iran dynamic: Why US effort to leverage Syria is flagging
In a bid to strengthen Washington's hand in the US-Iran dynamic, President Obama has sought to woo Syria. But as those efforts stall, Syria is drawing closer to Iranian-backed Hezbollah.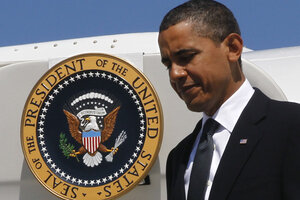 Charles Dharapak/AP Photo
More than a year after the US launched a cautious effort to reengage with Syria, wooing it away from Iran and the Iranian-backed Shiite organization Hezbollah, the process appears to have reached an impasse.
Far from loosening its ties to Hezbollah, which the US classifies as a terrorist organization, Syria seems to be drawing ever closer to the powerful group in military cooperation. A year ago, it was reported that Hezbollah militants were receiving training in Syria on SA-8 "Gecko" vehicle-mounted antiaircraft missile systems, and that Syrian-manufactured M600 artillery rockets with a range of 155 miles had been transferred to the Lebanese group.
Q&A: What are Hezbollah's true colors?
In April, Israeli and US reports surfaced that Syria had transferred Scud ballistic missiles to Hezbollah's control. On Thursday, The Wall Street Journal reported that Iran had delivered to Syria a new sophisticated radar system that could give advance warning of an impending Israeli strike against Iran's nuclear facilities or Hezbollah.
---