Palestinians brace for US pressure after Netanyahu's White House visit
After Netanyahu's visit to Washington on Tuesday, the US may pressure Palestinian leader Mahmoud Abbas to drop his precondition for face-to-face talks with the Israelis: a permanent settlement freeze.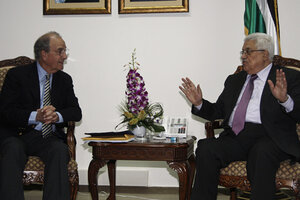 Mohamad Torokman/AP Photo, Pool
It's an axiom of Arab-Israeli peacemaking that the new rapport between President Barack Obama and Prime Minister Benjamin Netanyahu would leave Palestinians in an awkward spot.
After the Obama administration pushed Mr. Netanyahu over the past year to rein in West Bank settlements, there are signals in the wake of Netanyahu's White House visit on Tuesday that US pressure could shift to Palestinian President Mahmoud Abbas.
Mr. Abbas has refused to engage in face-to-face peace talks with the Israelis without a permanent freeze on Jewish settlements in the West Bank and East Jerusalem, but Mr. Obama may now ask him to compromise on that point.
"People are upset…. We doubt the potential to change Israeli policy regarding the peace talks, regarding the settlements, and lifting the curfew in Gaza,'' says Nashat Aqtash, a communications professor at Bir Zeit University in the West Bank. "They are going to put pressure on us, not the Israelis, to start direct negotiations without any assurances.… We are starting negotiations without anything.''
---
Follow Stories Like This
Get the Monitor stories you care about delivered to your inbox.