Civilian clashes with UN soldiers rise in Lebanon's Hezbollah heartland
Civilians in the southern Lebanese town of Qabrikha, where many support Hezbollah, attacked French soldiers with the UNIFIL peacekeeping mission last weekend. The UN Security Council is expected to discuss the rising tensions today.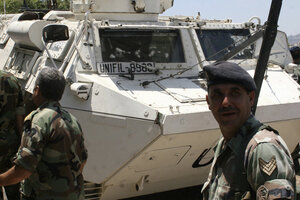 Karamallah Daher/Reuters
A violent clash between Lebanese civilians and French United Nations peacekeepers last weekend has cast into doubt the durability of a key UN peacekeeping mission even as the war drums continue to beat between Israel and Lebanon's militant Shiite Hezbollah.
The UN Security Council is expected to convene Friday at the request of France to discuss rising tensions in the past two months between the peacekeeping force, known as UNIFIL, and residents of southern Lebanese villages. The southerners accuse the French UNIFIL contingent in particular of exceeding its mandate and "snooping" on Hezbollah in their villages.
Briefing: What are Hezbollah's true colors?
"They [UNIFIL] have to understand that Qabrikha from one end to the other is with the Resistance," says Ali Zahwi, the mayor of Qabrikha village, referring to Hezbollah. "This is the land of the Resistance. Everyone you see here, whether walking along the road or riding a tractor, is with the Resistance."
---