Iraq withdrawal: A US unit prepares Mosul police for self-rule
As Iraq withdrawal looms in August, US readies police to confronts drugs, corruption, and insurgent clout in one of Iraq's most volatile cities.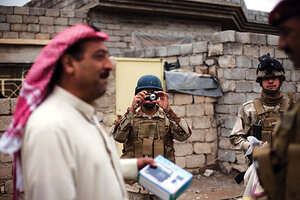 Sebastian Meyer
Perched on a couch in a small Mosul police station far from his home in Forest, Miss., Sgt. Wesley Majure sighs with frustration. "That's it? Only three to train?" he asks in his Southern drawl.
The Iraqi police chief, dressed in a Juventus tracksuit, shrugs. "You didn't tell us you were coming."
"Well let's go train the hell out of those three then," Majure huffs as he lifts himself off the couch and makes for the door.
This episode doesn't reflect poor planning; Majure couldn't tell his Iraqi colleague when they were coming – a rule laid down after a US soldier and his interpreter were killed by an Iraqi policeman in a Mosul police station in February 2009.
That's just one of the challenges this unit of US military police face on the front lines of preparing for America's exit from Iraq. They are a part of the STT, or Security Transition Team, which has been tasked with training Iraqi police to take on insurgents in Iraq's most dangerous city.
Ammunition money used to pave driveways
While attacks have fallen here since the peak of sectarian violence, Majure and other American advisers to the unit have other problems on their hands – everything from insurgents threatening the policemen's wives and children to generals using ammunition money to pave their driveways.
---