The other Israeli conflict: with itself
Ultra-Orthodox Jews, whose influence is growing, defied a recent ruling of the secular Supreme Court. A domestic Israeli conflict is brewing over the Ultra-Orthodox, whose men refrain from military service and generally choose state-subsidized study over employment.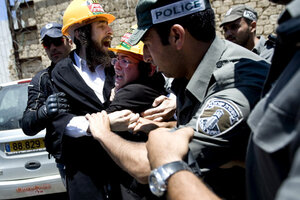 Ariel Schalit/AP
With side curls tucked under wire-rimmed glasses, Mordechai Kry­bus has become an ultra-Orthodox celebrity virtually overnight.
Israel's Supreme Court ruled that the Emmanuel elementary school, which his daughter attends, practices de facto ethnic segregation by separating students along religious lines. Mr. Kyrbus and 35 other parents went to jail rather than comply with what they considered religious coercion by the secular court.
More than 100,000 ultra-Orthodox supporters poured into the streets of Jerusalem in June to demonstrate on Krybus's behalf, aggravating Israel's religious-secular rift. Israel's mainstream press and secular public were outraged by what they saw as a case of brazen defiance of the legal system's principle of equality. Israel's ultra-Orthodox – known in Hebrew as Haredi, or God-fearing – saw a secular government meddling in the spiritual life of their children.
"It was worth it to suffer. We were there for ideological reasons. The rabbis told us what to do," says Krybus, interviewed a day after being released from 10 days in jail. "We felt we were emissaries for the Jewish people and that the Haredi world was behind us."
The controversy is the latest symptom of what many consider a serious challenge to Israel's democracy, especially three pillars: its schools, economy, and military.
Why ultra-Orthodox oppose Zionism
The Haredim oppose Zionism, believing that only the Messiah's return will pave the way for reestablishing their nation.
After its 1948 founding, Israel made provisions for the community to refrain from army service, study instead of work, attend separate schools, and live in separate towns like Emmanuel – enclaves where Yiddish is spoken and residents often rely on religious courts.
---